- by JP Wickremasinghe on 19/10/2016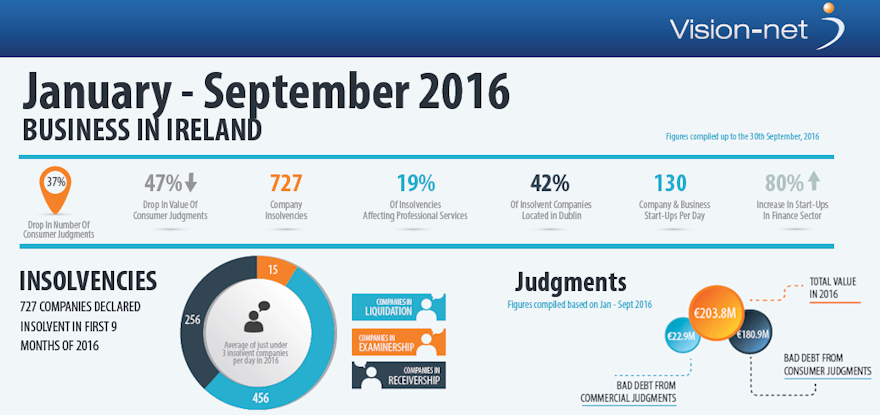 Building on our review of Quarter 3 - 2016, which was published earlier this month - we've analysed the first 9 months of the year to identify the key trends that affected Irish companies, businesses and individuals.
From a statistical point of view, 2016 has been a positive one, so far, for Irish companies.
It has built on the successes recorded last year and seen further increases in new companies being formed, as well as reductions in both corporate insolvencies and the number and value of bad debt judgments.
In order to better highlight this, we've broken down the data in to some key segments below...we've also included a concise infographic to highlight some of the most notable findings.
Corporate Insolvencies
727 insolvencies were recorded against Irish companies in the first 9 months of 2016 - this represents a drop of almost 5% on the same period last year (762). This figure is also down over 35% on the same periods in 2013 and 2014 which both saw over 1,100 Irish companies publish a notice of insolvency.
456 (63%) of the insolvent companies between January and September this year have been liquidated while a further 256 have had a receiver appointed to them.
Companies in the professional services sector were worst affected as they accounted for 19% of insolvencies. A further 18% of insolvencies were in the construction sector while the real estate and wholesale & retail sectors were each responsible for 12% of company closures.
Dublin and Cork were the counties most affected by insolvencies and accounted for over half the company closures recorded between them. 42% were based in Dublin (in line with 2015's findings) while Cork accounted for a further 10% of insolvencies.
Bad Debt Judgments
Almost EUR204m in bad debt judgments were awarded against companies and consumers in the first nine months of 2016 - however, this figure represents a 45% reduction on the same period in 2015 (EUR371.7m).
Over two thirds of judgments were against consumers - these had a combined value of almost EUR181m - down 47% on 2015's figure of just over EUR343m.
Commercial judgments had a combined value of almost EUR23m - down 19% on the figure for January to September 2015 (EUR28.4m).
Start-Ups
35,698 new companies and businesses were formed between the start of January and end of September this year - an average of over 130 start-ups per day. This represents a 3% increase on the figures from the same period in 2015.
15,788 of the new start-ups were companies - up 13% on the same period last year (13,936). One in five new companies chose to operate in the professional services sector.
Over 2,100 new companies are operating in the finance sector - this is an 80% increase on the first 9 months of 2015.
If you'd like to know more about these stats, or if you're interested in having bespoke reports or statistics generated, simply call us today on Tel: 01 903 2660 - we'd be delighted to discuss this with you.